François Élie Roulin is a multi award winning composer and the only French composer produced by Brian Eno on his Opal label.   In the words of Brian Eno, "François Élie Roulin is one of the pioneering new sound-painters. His work is surprising and innovative and points towards new musical territories." 
François has released 11 albums, well received by the public and critics alike.
Each album takes us by surprise, delighting us with unexpected new worlds. Like Forrest Gump choosing a chocolate, we don't know what to expect, but we are sure that it will be delicious.
 François is also secretly behind much of the current French audio landscape, having produced over a hundred soundtracks for commercials, some of which received awards at Cannes' Gold Lions "Festival de la Pub."
He has also played a large part in composing for the image industry including film scores, documentaries, TV station ID themes , credit beds and theatre.
His original music was even used by the French Gymnastic Team at the most recent Olympic Games.
His work for children combines richness with simplicity.  He has produced dozens of talking books for Disney and Ades, and original soundtracks for cartoons, his other passion in life.
 "Stories" is new album has just been released 
C'est le producteur visionnaire Brian Eno (David Bowie, U2, Talking Heads) qui lance la carrière de François Elie Roulin. Le producteur voit immédiatement dans ce jeune artiste, l'un des « Pionniers de la nouvelle peinture sonore ».
Il produira son premier album.
Depuis, François Elie Roulin est partout, sans peut-être même que nous ne le sachions, tant ses créations musicales sont présentes dans divers domaines depuis plusieurs années. Il travaille pour le cinéma, le théâtre, la danse, le dessin animé. Il a composé la musique d'une centaine de films publicitaires, dont certains récompensés d'un Lyon d'Or. Il a également imaginé l'habillage sonore de plusieurs chaînes de télévision.
Car, s'il est attiré vers la recherche, l'expérimentation et l'ouverture à toutes les formes de musique et d'art, il a surtout le désir profond de s'adresser à tous.
Mais F.E.R a surtout composé onze albums au style indéfinissable remarqués par la critique (Disque Rouge », "Initial Numbers",« Spinning Skies »,«Parade» ,« Alien Robots Orchestra » , « Le catalogue des rêves » « le bonheur » « Musique lente » « Du soleil dans mes yeux » "La tendresse" ," Stories",musique hybride entre classique, électro, rock et expérimental.
Le seul autre adjectif qui pourrait préciser son univers musical si éclectique serait : "onirique".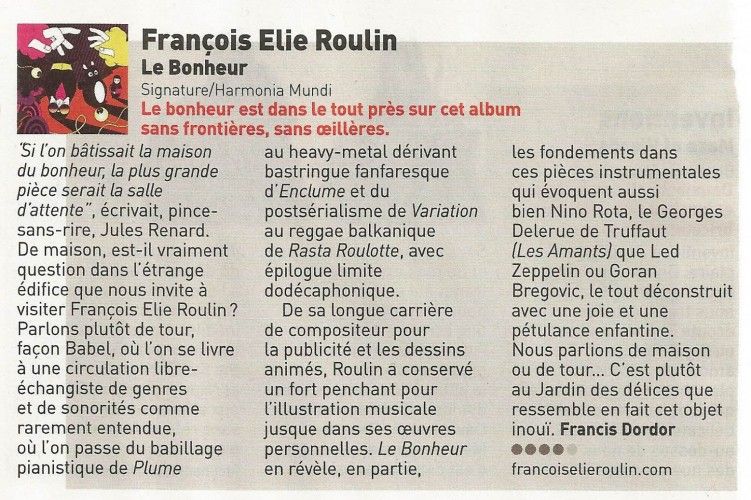 Francois Elie Roulin is...